If you were to go lululemon.com today, you'd see a photo of the Dalai Lama with a quote from His Holiness: "Love and compassion are necessities, not luxuries. Without them, humanity cannot survive." Presumably, pricey yoga clothes are not in the same category.
Am I being snarky? Yes.
lululemon
athletica
inc
. on Tuesday
announced
that it is partnering with the Dalai Lama Center "on a variety of initiatives including researching the connection between mind-body-heart, sharing the work globally, and expanding the reach of the Center's Heart-Mind education initiatives."
The company will donate $250,000 Canadian in each of the next three years to support the center's work.
Is that a good thing? Quite likely.
"At the Dalai Lama Center, our mission is to educate the hearts of children by informing, inspiring, and engaging the communities around them. We...look forward to working together to promote 'education of the heart,' which results in more peaceful, secure, engaged and compassionate children," said
Fiona

Douglas-Crampton
, president and CEO of the
Dalai Lama Center for Peace and Education
.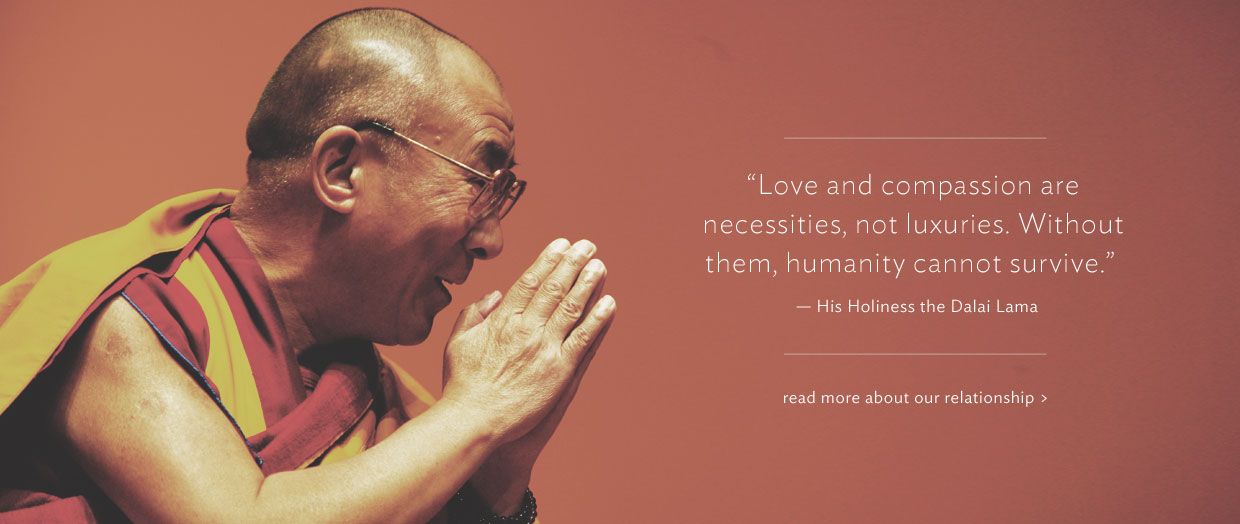 The center, a secular, non-political, not-for-profit organization, was established in 2005,
cofounded
by
HHDL
and Victor Chan.
Still, seeing the Dalai Lama on a website identified as "yoga clothes and running gear for sweaty workouts" gives me pause. There's no indication that they'll be offering a line of running tights with
HHDL's
face on the butt, or that he'll start showing up in slightly see-through yoga pants, but it feels icky to have his image, bowing, on shop.lululemon.com. Click on the
"learn more about our partnership"
link and you get to a page headlined, "
psst
! we're in a new relationship."
lululemon
is a company
in need of good will
. Its co-founder
stepped down
last year after saying that the company's clothes weren't intended to work on women with large thighs. But the way they're handling their "new relationship" doesn't make me like them more.
I don't think a straight-out donation would have bothered me. It's the "partnership," combined with HHDL's image, bowing, and a quote that includes the word "luxury." All of that creates a certain impression that helps to sell clothes, for lululemon. Thich Nhat Hahn's Foundation
sells T-shirts
with TNH's calligraphy to raise money. That's straightforward fundraising, not filtered through a for-profit company that's made some questionable choices in the past.
It reminds me of the corrupt Thai police official in
John

Burdett's
books who makes donations at the local temple to buy merit so he can go on behaving badly.
What do you think?